Failure to clean rust buildup and properly lubricate caliper brackets during brake service is proven to be a major cause of brake noise, premature wear and increased stopping distance. Federal-Mogul Motorparts' Technical Education Center recommends a meticulous cleaning and lubricating of all caliper brackets and mounting points. This will allow proper caliper/pad movement to ensure maximum brake performance and customer satisfaction.
PAD GUIDE RUST/CORROSION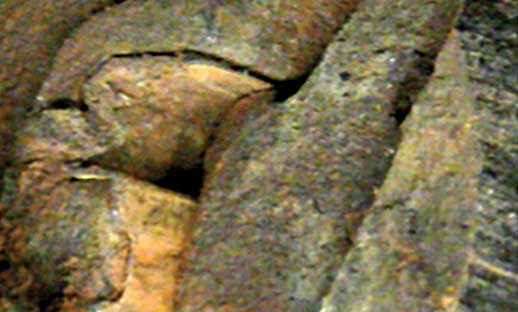 PAD RUST BUILDUP

RUST JACKING - NO PAD MOVEMENT

Caliper/Pad/Guide Rust Buildup From Lack of Lubrication
TO PROVIDE LONG, QUIET, BRAKE SERVICE LIFE, WE RECOMMEND:
Use a wire brush or sand/bead blasting to remove rust from caliper brackets/guides
Clean or Replace attaching hardware
Lubricate "Metal-to-Rubber" friction points (guide pins to boots) with Silicone lube (Wagner # F132005)
Lubricate "Metal-to-Metal" friction points (brackets to guides/guides to pads) with a Molybdenum Disulfide lube, commonly called "Moly Lube"
DO NOT lubricate or apply any compounds on the backing plate of Wagner ThermoQuiet® with "IMI" brake pads
Use premium quality Wagner ThermoQuiet® brake pads
Use premium quality rotors
Note: Molybdenum Disulfide is effective in wet or corrosive environments over a wide range of temperatures.
CLEANED CALIPER BRACKET

LUBED GUIDE PINS

PROPERLY LUBED GUIDES

OTHER PARTS FOR YOUR VEHICLE
Wagner® offers a wide variety of products for all of your automotive needs. Check them out today!