New National Wagner® OEX Campaign to Help Consumers Make Educated Decisions About Brake Pads
TV, Print, Radio and Digital Ads Promote Benefits of Revolutionary Pads That Stop Pickups, SUVs and CUVs Up to 50 Feet Sooner1
Southfield, Mich., March 14, 2017...Tens of millions of consumers will soon learn how the choice of the right replacement brake pads could help them stop up to 50 feet sooner through a comprehensive new advertising campaign in support of revolutionary Wagner® OEX brake pads from Federal-Mogul Motorparts. Wagner OEX brake pads can stop pickups, SUVs and CUVs up to 50 feet sooner than other leading pads.1
Launching this week, the Extensive new Wagner OEX campaign will include ads on national television networks, in leading consumer magazines, on radio and in a wide range of digital placements. The new Wagner OEX television ad, titled "Families Matter," powerfully documents the difference stopping up to 50 feet sooner can make in a common driving situation.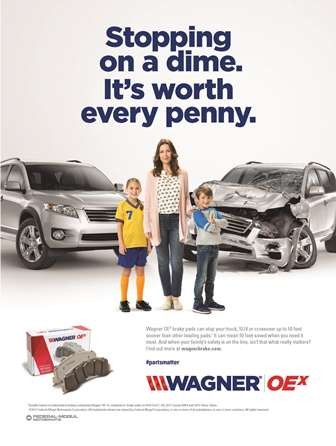 "The ability to stop sooner is a powerful message for drivers because they understand that every foot is critical when they are trying to avoid an accident," said Laura Soave, senior vice president and chief marketing and communications officer, Federal-Mogul Motorparts. "We want to help consumers understand that quality and performance absolutely matter when it comes to the brake pads and other parts they choose for their vehicles.
Federal-Mogul Motorparts is committed to providing well-designed, high quality automotive replacement parts that customers can rely on. This is true not only for Wagner OEX, but for Federal-Mogul Motorparts' products from its leading brands, including MOOG®, Fel-Pro®, ANCO® and Champion®.
"As a global leader in the braking category, we want to help start a conversation between vehicle owners and their parts and service providers about the importance of relying on parts that are engineered to provide Exceptional performance and reliability," she said.
Available through leading automotive parts and service providers across North America, Wagner OEX brake pads feature custom-shaped, application-specific pad designs covering 98 percent of the North American automotive industry's fastest growing market segment - pickups, SUVs and CUVs. The pads' patent-pending shape and slot design creates turbulent airflow, which allows for cooler operation and their superior stopping power. They also last up to two times longer2, generate less dusting, reduce rotor wear, and offer consistent performance in all braking conditions.
1 Results based on 60 mph post fade performance testing conducted by Link Engineering Company comparing Wagner OEX Brake pads to competitors' pads on the 2014 Ford F-150, 2011 Toyota RAV4 and 2013 Chevrolet Tahoe.
2 Results based on internal testing comparing new Wagner OEX to other Wagner offerings.