Mike Rowe, TV Host, Writer, Proponent of Trade Professionals, to Support Launch of Wagner® OEX Brake Pads
Host of CNN's 'Somebody's Gotta Do It' to Highlight Importance of Automotive Technicians While Telling Technology Story Behind Latest Wagner Braking Innovation.
Southfield, Michigan, November 2, 2015…Mike Rowe, the internationally recognized television host, writer and proponent of professionals in the skilled trades, has signed on to support the launch of the Wagner® brand's latest automotive braking innovation, Wagner OEX brake pads. Wagner OEX pads and other Wagner brake products are manufactured and marketed by Federal-Mogul Motorparts, a division of Federal-Mogul Holdings Corporation (NASDAQ: FDML) and a premier supplier of advanced friction products to several of the world's largest vehicle manufacturers.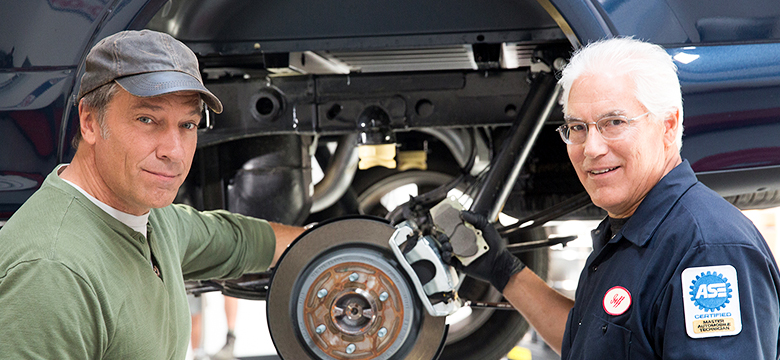 (Pictured are Mike Rowe, left, and Jeff Buckley, Owner/ASE-certified Technician, My Father's Shop, Midlothian, TX)
Rowe, perhaps best known as host of the popular weekly CNN television series "Somebody's Gotta Do It" and his former show, "Dirty Jobs," runs the MikeRoweWORKS Foundation, which awards scholarships to students pursuing careers in the skilled trades. He will be featured in print, radio and television advertising as well as social media as he highlights the importance of automotive service professionals and the revolutionary technology behind Wagner OEX brake pads, which help the owners of pickups, sport utility vehicles and crossovers stop up to 50 feet sooner*.
"I've always been grateful for the technicians that look after my vehicle. And humbled. Truth is, you need to be part rocket-scientist these days to figure out what really goes on under the hood, and I'm glad to shine on the people who take their jobs seriously. I'm also happy to brag about Wagner brakes. They've done something no one else in the industry has managed to do, and that's worth talking about," said Mike Rowe.
"We are thrilled by Mike Rowe's support of our new Wagner OEX premium brake pads and the very tangible safety and performance benefits they offer drivers throughout North America," said Laura Soave, senior vice president and chief marketing and communications officer, Federal-Mogul Motorparts. "As an authentic voice for professionals in the skilled trades, Mike is the perfect champion for the innovation behind Wagner OEX pads, as well as the vehicle repair technicians who choose and install premium branded parts, like Wagner OEX, on behalf of their customers every day."
Rowe's commitment to trade professionals aligns with Federal-Mogul Motorparts and the Wagner brand's aggressive support of current and future automotive technicians through the innovative Garage Gurus training network. Garage Gurus offers onsite technical education at state-of-the-art training centers in several North American markets, on-demand training through a fleet of "Gurus-On-The-Go" product technology vans, and online instruction at www.FMgaragegurus.com. Motorparts and the Wagner brand also sponsor $30,000 in annual scholarships to students enrolled in accredited post-secondary automotive trade schools.
The Wagner OEX line includes 114 custom-shaped, application-specific pad designs covering 95 percent of utility-focused passenger vehicles registered in North America. These unique, patent-pending pad shapes, combined with precisely engineered slots and cuts, enhance performance by increasing turbulent airflow, allowing for cooler operation and improved stopping power. Additional benefits of Wagner OEX brake pads include reduced rotor wear and dusting and up to two times longer pad life2. These characteristics are particularly important on pickups, SUVs and CUVs – North America's largest and fastest growing vehicle segment – which often encounter a wider range of loads and more challenging operating conditions.
Wagner conducted extensive in-market testing involving more than 400 U.S. technicians and service locations. Ninety-nine percent of automotive professionals included in this testing reported that Wagner OEX pads provide a higher level of quality, offer premium-level appearance and are noticeably different than other brake pads. Ninety-five percent of participants indicated they are likely to recommend OEX pads to their customers and other professionals.
To learn more about Wagner OEX brake pads and other Wagner innovations, contact your Wagner supplier or Federal-Mogul sales representative, and log on to www.WagnerBrake.com. Visit the Federal-Mogul Motorparts exhibit (No. 3217) at the AAPEX 2015, November 3-5, in Las Vegas.
1 Results based on 60 mph post fade performance testing conducted by Link Engineering Company comparing Wagner Brake pads to competitor's pads on the 2014 Ford F-150, 2011 Toyota RAV4 and 2013 Chevrolet Tahoe.
2 Results based on internal testing comparing new Wagner OEX to other Wagner offerings.
About Mike Rowe and mikeroweWORKS Foundation:
Mike Rowe has been called the "dirtiest man on TV," a title he earned while hosting Discovery Channel's Dirty Jobs. As the Creator, Executive Producer, and Host of CNN's Somebody's Gotta Do It, Mike introduces viewers to innovators, do-gooders, entrepreneurs, collectors, and fanatics who perform unique jobs. As the CEO of the mikeroweWORKS Foundation, a 501(c)(3) public charity, Mike also spends a significant amount of time speaking about the country's dysfunctional relationship with work, the widening skills gap, and challenging the persistent belief that a four-year degree is automatically the best path to take. The Foundation awards scholarships to qualified individuals who have an interest in mastering a skilled trade, and it has been instrumental in granting more than $3 million in education through the Work Ethic Scholarship Program for trade schools across the country. For more information, please visit MikeRowe.com.