Wagner® Brake Launches New Automotive Safety Video Game
Free, Engaging Wagner "Brake Rate" Game Encourages Players to Compete While Educating About Brake Life and Safe Stopping
SOUTHFIELD, Mich., June 14, 2016 (GLOBE NEWSWIRE) -- Federal-Mogul Motorparts, a division of Federal-Mogul Holdings Corporation (NASDAQ:FDML) today launched a new, free online video game for consumers and automotive technicians everywhere. The game, called Wagner® Brake Rate, is designed to engage and educate users on the hazards of everyday driving and the wear it can cause on vehicle brakes.
The new Wagner "Brake Rate" game, which is free to play online, encourages players to compete while educating about brake life and safe stopping.
Now available at www.Bit.ly/WagnerBrakeRate, Wagner Brake Rate is another effort by Federal-Mogul Motorparts to increase awareness of automotive safety, in addition to the company's #PartsMatter campaign. The game also provides users with information about new Wagner OEX brake pads, which were launched earlier this year and can stop pickups, SUVs and CUVs up to 50 feet sooner than the competition1.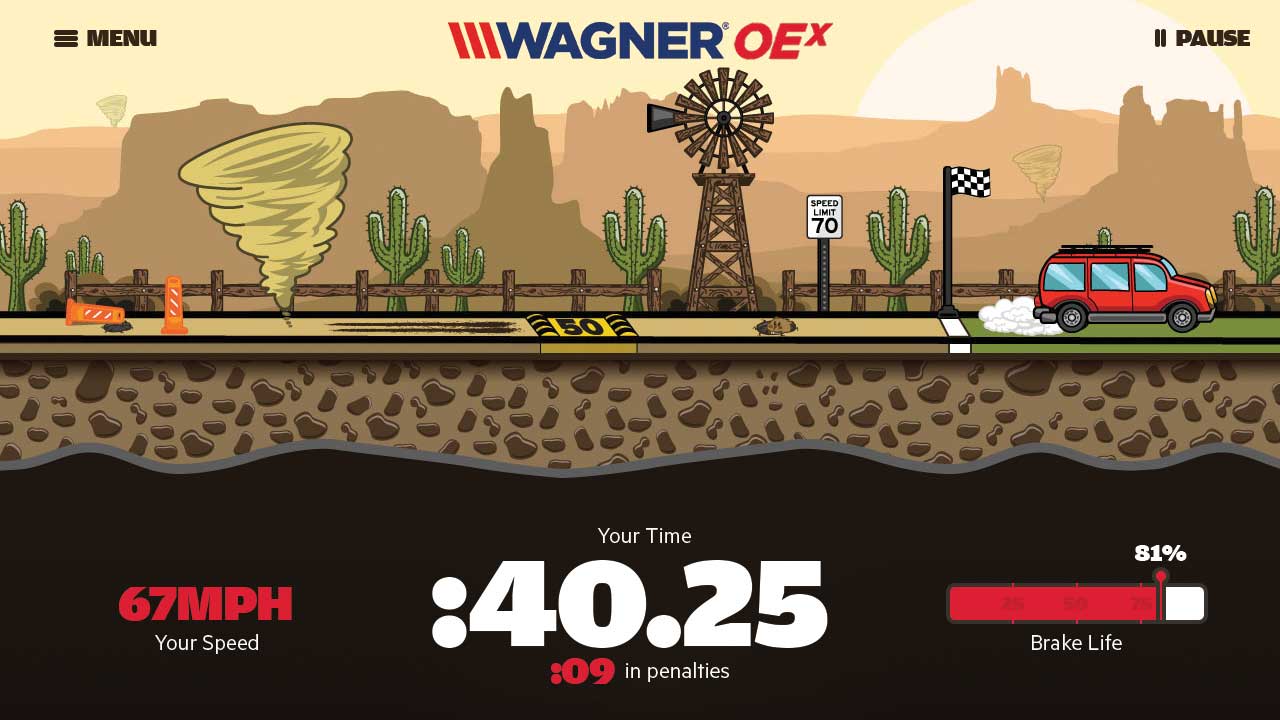 Players control a vehicle's speed while dodging obstacles and monitoring the vehicle's brake wear through four courses. Each course must be completed before players can proceed to a more challenging level. Times are recorded and added to an online leaderboard, so players can compare their scores with friends or players anywhere.
"Safety is the cornerstone of everything we do," said Laura Soave, vice-president of marketing and communications, Federal-Mogul Motorparts.
"All of our parts, including Wagner OEX brake pads, are designed with vehicle safety as a high priority. We also constantly strive to find new and creative ways to educate the market on the important role that brake pads and other parts play in vehicle safety. The Wagner Brake Rate video game is intended to help bring that message to auto technicians and consumers in a fun way."