PREMIUM BRAKING PERFORMANCE
Wagner OEX brake pads are specifically designed to provide premium braking performance for trucks, SUVs and CUVs. Equipped with a proprietary friction formulation and patented, vehicle-specific and customized slot designs, these pads are engineered to deliver up to two times longer pad life*, less dust, and reduced rotor wear.
*Results based on internal testing comparing new Wagner OEx to other Wagner offerings.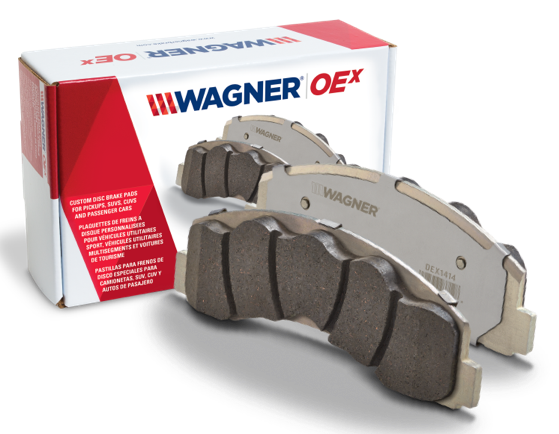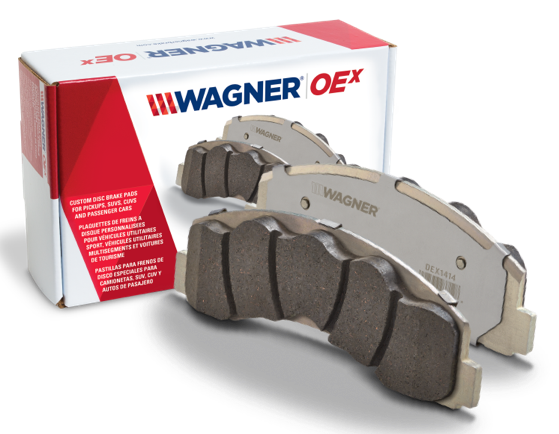 PREMIUM PERFORMANCE THAT LASTS UP TO 2X LONGER**
DESIGNED FOR TRUCKS, SUVS, AND CUVS
Specifically engineered to deliver optimal braking performance for late-model trucks, SUVs and CUVs
LONGER LASTING
Patented, application-specific shape and customized slot design deliver improved braking performance, reduce rotor wear and minimize dust to increase the life of the brake pad
COOLER OPERATION
Design creates turbulent air flow for improved heat dissipation allowing for cooler operation and improved stopping power
RESISTS CORROSION
Superior galvanized steel plates with mechanical retention and premium stainless-steel hardware for better corrosion resistance and longer life
QUIET OPERATION
Asymmetrical pad shape and five shim layers deaden noise, vibration and harshness
HARDWARE INCLUDED
Premium stainless-steel hardware included for all applications
ZERO COPPER FORMULATION
Features Wagner OE25™ zero-copper friction formulation
**Results based on internal testing comparing new Wagner OEx to other Wagner offerings.

DESIGNED FOR trucks, suvs and cuvs
Every Pickup, SUV and CUV model has unique braking demands. That's why our Wagner Brake engineers designed 114 unique patented platform-specific brake pads covering 95% of these popular applications. Each pad shape design is optimized to provide consistent performance in all braking conditions. This innovative leadership is what makes Wagner Brake the only four-time winner† recognized by the industry as the overall best brand of replacement brake pads.
† 2015 Frost & Sullivan Replacement Brake Pads Product Leadership Award Winner.
Search for your part by vehicle year, make and model.
THE GUYS WHO KNOW,
KNOW IT'S WAGNER OEX
"{{ quote['text'] }}"
{{ quote['reference'] }}
Learn More