WHAT ARE BRAKE PADS AND WHAT DO THEY DO?
Most cars and light trucks are equipped with a disc brake system on all four wheels. Disc brake systems consist of three main components: a brake "disc" or rotor, a hydraulic piston assembly known as the brake caliper assembly and a pair of brake pads.
Disc brake pads are made of friction-creating materials. When the brake pedal is pressed, the hydraulic pistons push the brake pads against both sides of the flat surface of the brake rotor, creating enough friction to stop the vehicle.
The process of braking causes the pads and rotors to wear down slightly with each application of the brakes. This means that they will periodically wear down enough to affect the stopping power of your vehicle. When this happens, it is imperative that you replace them immediately.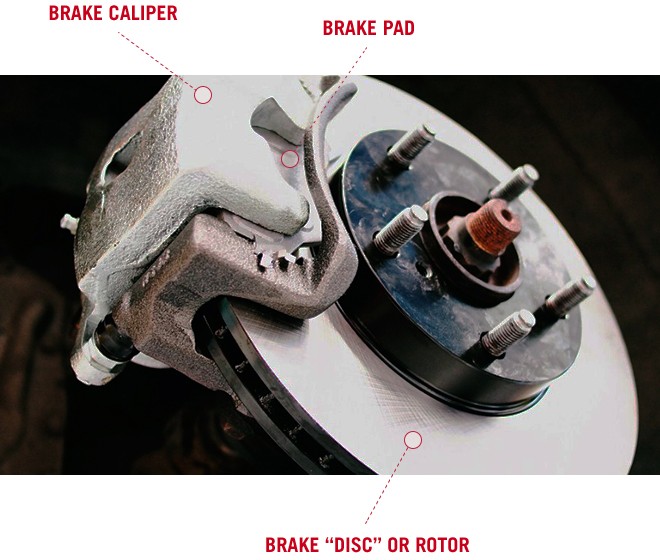 WHAT MAKES A GOOD BRAKE PAD
There is much more to a good brake pad than just its ability to stop a vehicle. The ability to absorb and disperse heat, how quickly it will wear, and the amount of noise and dust it creates are all things to consider when choosing a brake pad.
It may be tempting to choose the brake pads with the lowest cost. However, it is important to keep in mind that you really do get what you pay for. Low quality brake pads can be very noisy, wear down faster and also cause wear on other brake system parts like brake rotors – which means spending more in the long run.
WHAT ARE THE MOST COMMON TYPES OF BRAKE PADS?
There are three main types of brake pads that you'll find on passenger vehicles: non-asbestos organic, ceramic and semi-metallic.
NON-ASBESTOS ORGANIC
Because of their organic makeup, non-asbestos organic (NAO) brake pads don't pollute as they lose friction material and are easy to dispose of. NAO pads are softer than most other brake pads, which makes them quieter, but also means that they wear faster and may produce dust. They are best suited for lighter vehicle applications that don't require a lot of hard braking.
CERAMIC
Ceramic brake pads have excellent stopping power and disperse heat well. Ideal for most normal driving applications, they produce very little dust or noise and are long lasting. Many foreign and domestic vehicles are equipped with ceramic brake pad formulations from the factory.
SEMI-METALLIC
Semi-metallic pads have good stopping power and are very efficient at dispersing heat. They can be noisy and do create more dust than ceramic brake pads. This type of pad is also made with friction materials that are harder than most others, so they may have more aggressive wear to your brake rotors.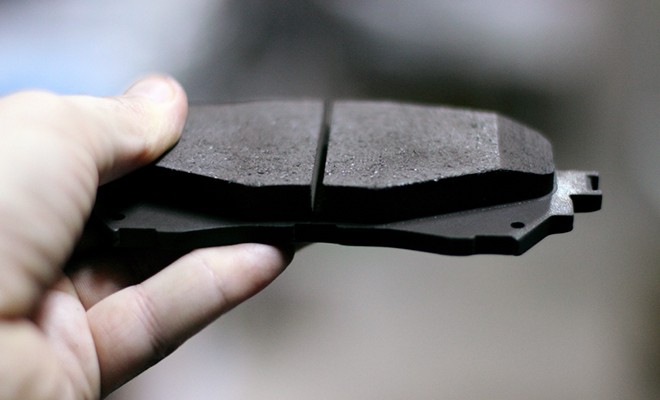 QUALITY BRAKES – THE RIGHT CHOICE
Selecting premium replacement brake pads for your repair job will give you the results you want. Using premium parts like Wagner® brake pads means you'll get the performance and features that that the car manufacturer intended. When you choose premium brake parts for your car, truck or SUV, you can rest easy knowing that you have selected the best brake parts for your vehicle. Find the right Wagner brake pad for your vehicle with our brake selector tool.
If you aren't sure which part to choose, take the time to do a little research on your own. Between manufacturer websites and independent sites for the do-it-yourselfer, the Internet can help you make an informed decision. Additionally, if you are only presented one option and don't feel comfortable with the part that you are being offered, don't be afraid to ask your mechanic for an alternate option. Remember, it's your vehicle; you owe it to yourself and your passengers to make an informed decision.
Bottom line? You count on your vehicle to operate at peak performance every time you turn the key. Be sure to insist on high-quality premium parts when having your car serviced by your local repair shop.
---
Learn more about quality brake parts, find your car part, or find where to buy your auto part today.

The content contained in this article is for entertainment and informational purposes only and should not be used in lieu of seeking professional advice from a certified technician or mechanic. We encourage you to consult with a certified technician or mechanic if you have specific questions or concerns relating to any of the topics covered herein. Under no circumstances will we be liable for any loss or damage caused by your reliance on any content.