How to Check the Brake Caliper and Brake Rotor
Once you have examined the master cylinder and brake fluid and the brake pads, the next step in inspecting the brake system is to examine the brake caliper. Picking up where Part 2 of the Brake System Inspection left off, read on to learn how to check the brake caliper and brake rotor.
Step 1 – Read Part 1 and Part 2 of the Brake System Inspection Series
Step 2 – Look at Caliper and Slide Pin Boots
Examine the boots carefully, looking for signs of damage like rips, tears or cracks. Ensure that the caliper slide pin is moving freely.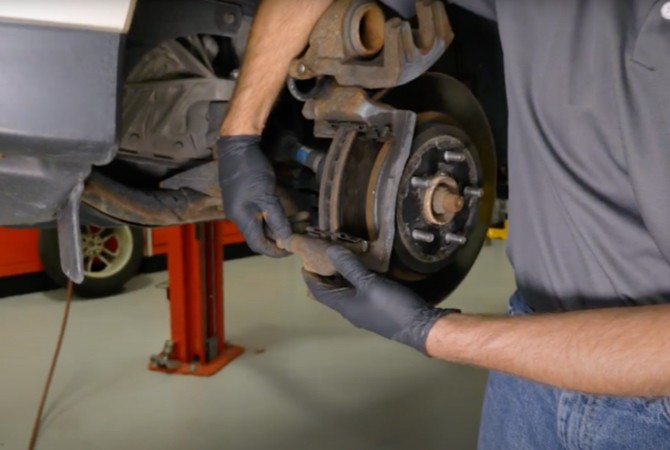 Step 3 – Check Out Brake Rotor
Next, look at the brake rotor. To look at the rotor, you must first get the caliper bracket out of the way by removing the two bolts that hold the caliper bracket to the steering knuckle. Use a socket wrench to remove the bracket.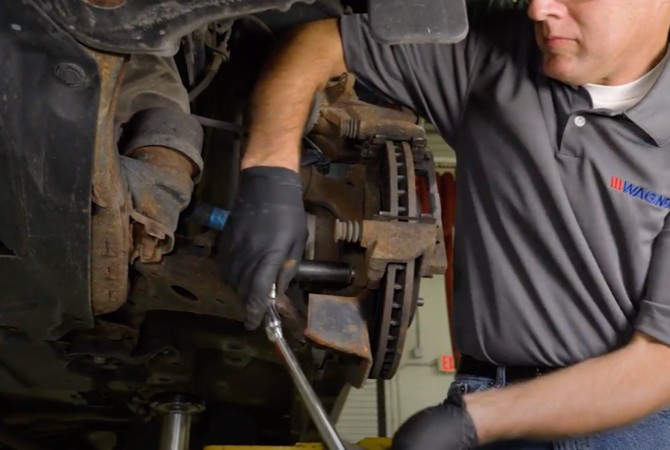 Look at both wear surfaces of the rotor – inner and outer. As with brake pads, it's important to make sure the rotor surfaces are wearing evenly. Also check for signs of excessive rust buildup. Over time, rust can creep from the outside edge down into the wear surface on both the inner and outer rotors. If there are signs of rust on the friction surface, it's an indication that the rotor should be replaced.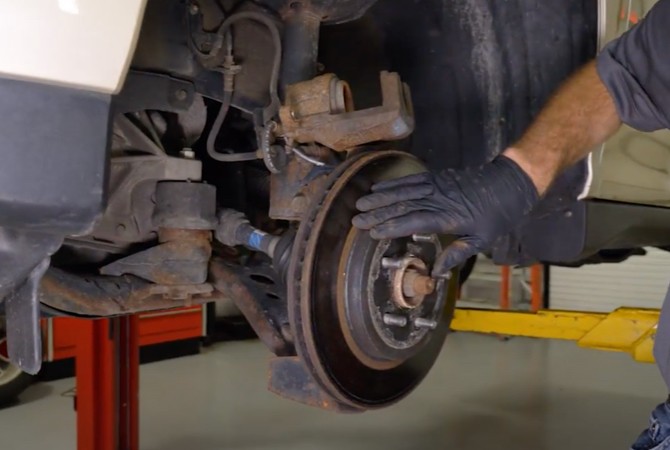 Step 4 – Examine Caliper Hardware
While the caliper bracket is off, examine the abutment clips. Take the abutment clips off and look at where they were. Look for excessive buildup on the upper seating surface and lower seating surface. If there are signs of rust, take a wire brush or file and clean it up. If the rust isn't removed, it can cause the brake pad to bind in the brake and could contribute to uneven wear.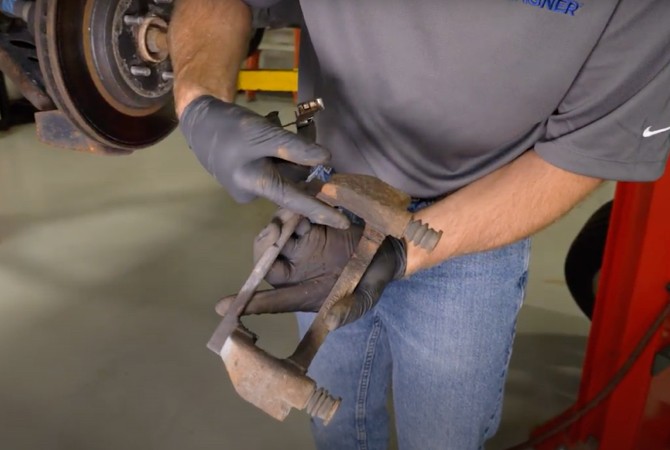 Step 5 – Determine What Components Need Replacing
Once you've completed your inspection, determine what brake components need to be replaced. Look to Wagner for premium quality brake pads and rotors to complete your repair. Learn how to perform a complete brake job by installing Wagner brake pads and rotors.
---
The content contained in this article is for informational purposes only and should not be used in lieu of seeking professional advice from a certified technician or mechanic. We encourage you to consult with a certified technician or mechanic if you have specific questions or concerns relating to any of the topics covered herein. Under no circumstances will we be liable for any loss or damage caused by your reliance on any content.
OTHER PARTS FOR YOUR VEHICLE
Wagner® offers a wide variety of products for all of your automotive needs. Check them out today!