Keep Moving with Quality Brake Pads
Whether you're an independent contractor driving for a ride share company, a driver making deliveries for an e-commerce site, or a manager of a fleet for a business or municipality, you rely on your vehicle to keep your business moving. While you need all the systems of your vehicle operating at peak efficiency, your braking system is key to keeping your business on track.
Light commercial vehicles like delivery vans, fleet vehicles and work trucks typically make several stops a day while driving in challenging conditions, like stop-and-go traffic, that can wear down your brake pads. To keep up with the demands of your business, you need properly functioning brake pads that can keep up with your vehicle.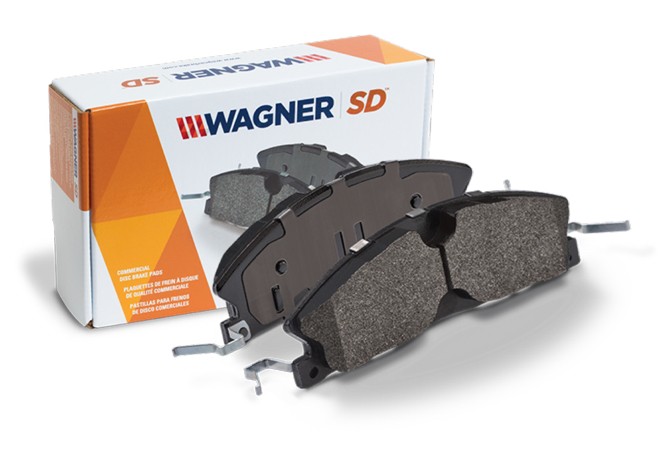 If your brake pads are thin and worn, you won't have full stopping power when you need it the most. When it's time to replace your brake pads, you have an important decision to make. If you push your vehicle to the limit, it is critical that you select a brake pad that is up for the job. Hardworking fleet, first responder and delivery vehicles need brake pads that deliver the durability and performance to stay on the road mile after mile.
Wagner SD® Brake Pads – The Right Choice
Built to last, you can count on Wagner SD brake pads. Featuring exceptional pad strength and longer pad life, Wagner SD brake pads are formulated for extreme heat and frequent stopping while towing and carrying heavy loads.
BUILT TOUGH
Engineered for fleet, municipal, first responder, work and delivery vehicles that are driven in demanding conditions such as making frequent stops, towing and carrying heavy loads.
LONG LIFE
Semi-metallic carbon-based friction material engineered in-house to deliver long lasting braking performance for the toughest applications.
TESTED AND VALIDATED
Rigorous OE-style on-vehicle testing to ensure optimal braking performance for vehicles under extreme heat, frequent stopping and heavy loads.
OE DESIGN
Features OE style shims, slots and chamfers.
HARDWARE INCLUDED
Premium stainless-steel hardware kits included for key applications.
ZERO-COPPER FORMULATION
Features Wagner OE25™ zero-copper friction formulation.
Wagner SD brake pads are available for many popular cars, vans and SUVs that are used as fleet, delivery and police vehicles.
---
The content contained in this article is for informational purposes only and should not be used in lieu of seeking professional advice from a certified technician or mechanic. We encourage you to consult with a certified technician or mechanic if you have specific questions or concerns relating to any of the topics covered herein. Under no circumstances will we be liable for any loss or damage caused by your reliance on any content.
OTHER PARTS FOR YOUR VEHICLE
Wagner® offers a wide variety of products for all of your automotive needs. Check them out today!