Extreme Conditions
Towing, hauling and driving in challenging conditions can be hard on your vehicle. Whether you're towing a boat or trailer, hauling a heavy load in the bed of your truck, or traveling in tough conditions, every part of your ride takes a beating – including the brakes.
When you hit the brake pedal, you'll notice that your vehicle handles differently when loaded or when you're bouncing down an uneven trail. You may experience increased stopping distances due to the added weight of the load, the trailer you're hauling or the stress of traveling on a rough two-track road.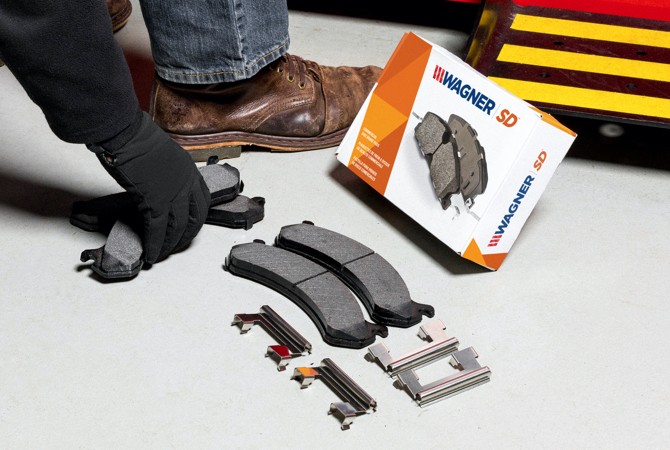 Your choice of brake pad can have an impact on the braking power of your vehicle. If you routinely tow, haul or go off-roading, it is critical that you select a brake pad that works as hard as you do. Hardworking trucks and SUVs deserve brake pads that deliver the durability and performance you need.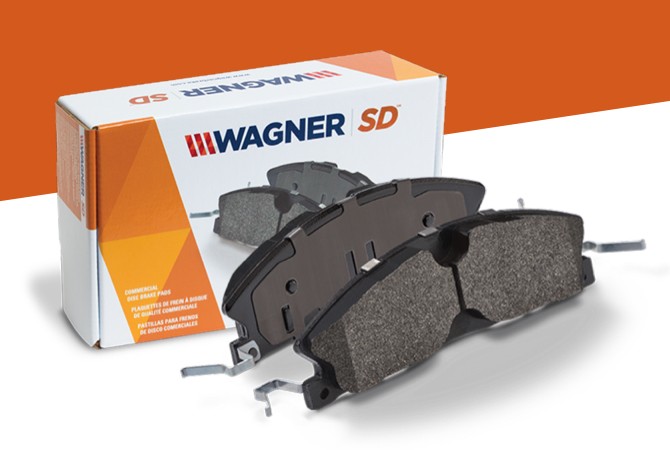 Wagner SD® Brake Pads – Built Tough
Built for the toughest environments, you can count on Wagner SD brake pads. Formulated for extreme heat, frequent stopping and heavy loads, Wagner SD brake pads feature exceptional pad strength and longer pad life. Wagner SD brake pads are made for frequent stops, hauling gear, and heavy payloads.
BUILT TOUGH
Engineered for fleet, municipal, first responder, work and delivery vehicles that are driven in demanding conditions such as making frequent stops, towing and carrying heavy loads.
LONG LIFE
Semi-metallic carbon-based friction material engineered in-house to deliver long lasting braking performance for the toughest applications.
TESTED AND VALIDATED
Rigorous OE-style on-vehicle testing to ensure optimal braking performance for vehicles under extreme heat, frequent stopping and heavy loads.
OE DESIGN
Features OE style shims, slots and chamfers.
HARDWARE INCLUDED
Premium stainless-steel hardware kits included for key applications.
ZERO-COPPER FORMULATION
Features Wagner OE25™ zero-copper friction formulation.
Tips For Braking While Hauling or Towing
Anticipate stops
Plan for more braking time
Begin braking earlier
Don't slam on brakes
Avoid riding brakes to inhibit overheating
Remain alert to road and surroundings
No tailgating – leave space between you and the vehicle ahead of you
---
The content contained in this article is for informational purposes only and should not be used in lieu of seeking professional advice from a certified technician or mechanic. We encourage you to consult with a certified technician or mechanic if you have specific questions or concerns relating to any of the topics covered herein. Under no circumstances will we be liable for any loss or damage caused by your reliance on any content.
OTHER PARTS FOR YOUR VEHICLE
Wagner® offers a wide variety of products for all of your automotive needs. Check them out today!